Working hand-in-hand with your interior designer ca ensure peace of mind when renovating your home, as exemplified in this 5-room HDB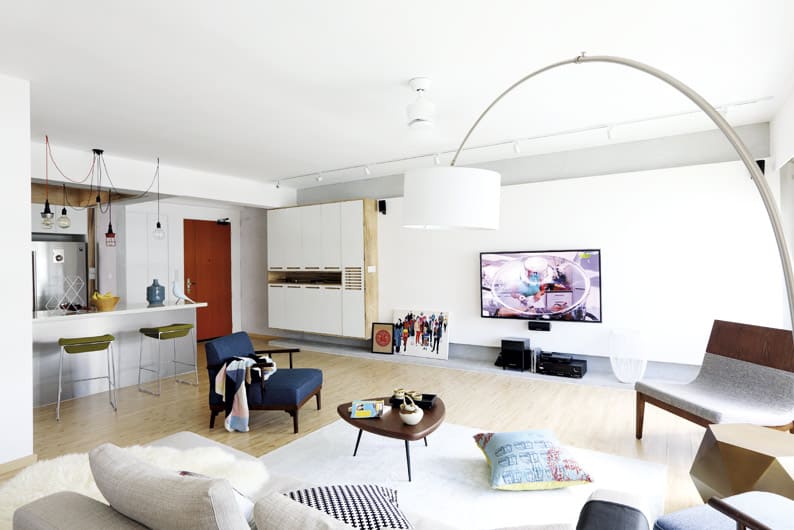 Renovating your home is an incredibly important event in your life. Simply said, the amount of money (and time) you're investing into your home renovation and interior design means that this is probably a stressful period of time. One way to ensure peace of mind is to work closely with an interior designer that you trust. This 5-room HDB was the result of a creative collaboration between homeowners and interior design company Fuse Concept.
Before the renovations, homeowner Xin Lei was already 80% decided on what she wanted her home to look like, but she needed the expertise of an interior designer to help bring these plans to life. It's always advisable to meet with around three design firms, and pick the one that you click with. For Xin Lei, it was a good match with the Fuse Concept team. "I feel like they understood what we wanted and they were willing to listen to ideas. The designers will make an effort to try to meet our requests and if they can't, they would present alternatives," she says.
By taking reference from homes in Japan, Taiwan and the Scandinavian countries, Xin Lei came up with the home's clean lines, pared look and utilitarian spaces. The Fuse Concept designers were essential in coming up with the spatial plan. They broke down a few walls to combine the living and dining rooms, leaving an open and unencumbered space that is refreshingly open.
The collaboration also resulted in a few positive changes to Xin Lei's initial ideas. "I wanted to have a cement floor because I thought it would have a raw, natural feel. But the designers showed me that cement will make a home feel cold, and I wanted a home that's warmer and more inviting." Instead, the home has a special type of laminates – they're 12mm thick, which makes them nearly as solid as regular tiles – for that homely feel.
For Xin Lei and her husband, working hand-in-hand with the interior designers has resulted in a home that they're very happy with. "The journey was really smooth sailing and I enjoyed myself so much. It's amazing to see how the designers can take my ideas and bring them to life."
Credits to: https://www.lookboxliving.com.sg