Industrial elements and masculine tones come together in this 914-square foot BTO unit by way of a red brick wall, cement screed surfaces and wood-textured furniture. Contrary to being cold, the living room exudes a cosy vibe thanks to the inclusion of quirky knick-knacks and furnishings that imbue a sense of personality and playfulness into the space. Loose furniture, like the solid wood TV console, leather sofa and bar cart, were chosen for their modular nature so that the homeowners can move things around as and when they please.
The dining area continues the slight industrial Theme of the living room its selection of wood grained table, steel and geometric pendant lamps.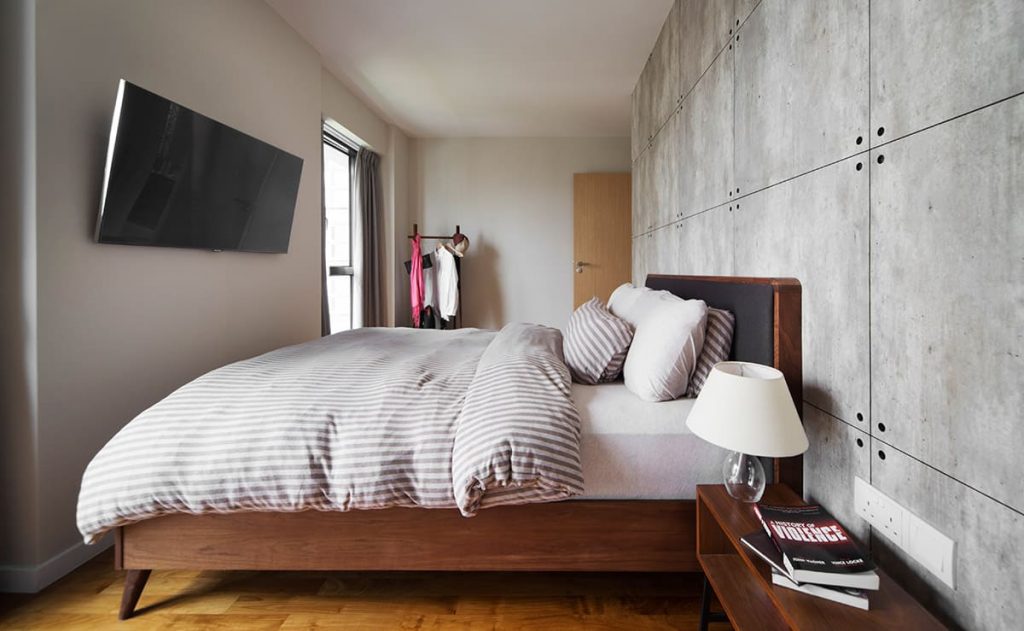 Segregated into two zones – one for sleeping in and one for dressing up in – the master bedroom gives off a peaceful vibe with its palette of wood and grey tones. The sleeping zone is simply furnished with a bed and a pair of nightstands, while behind a wall is an island wardrobe with ample storage space created to house the homeowners' clothes and accessories.
When it comes to first homes, most young homeowners would be particular about style and practicality in equal measures. After all, a home is where busy working professionals can truly relax and get away from it all. At the same time, functionality is key in compact homes to maximise every square inch of available space.
This four-room BTO unit, home to young working couple Marcus and Gayle, best exemplifies the chic yet practical home that is so in demand in urban Singapore. Having wanted a unique abode that reflects their trendy tastes and preference for vibrant colours all while being easy to clean and maintain, they sought the help of Eddie Tay of interior design firm Fuse Concept to realise their ideal space.
The result is a cosy haven replete with warm, masculine tones and industrial touches jazzed up with the couple's collection of pop culture memorabilia.
This unique style can be first discerned from the living space with its wood-textured furniture, classic red brick feature wall and cement screed flooring. While these elements are synonymous with the industrial interior style, the atmosphere isn't cold at all thanks to the quirky display of accessories and knick-knacks that breathe personality into the space.
Of particular note in the living area is the collection of furniture, such as the leather-clad sofa and mahogany shelf that hint at a masculine flair. These are complemented by a series of wine crates stationed near the TV console that go with the home's light, modular look.
One way Eddie and his team maximised the 914 square-foot space was by modifying the kitchen to include an opening at one of the walls to create a window. By carving out a window between the two spaces, natural light is allowed to stream into the kitchen from the dining area, which in turn visually opens up the utilitarian zone.
Inside the kitchen, the design team installed an L-shaped counter to maximise the petite space. To meet the couple's requirements for a functional cooking area with ample storage space, a series of top and bottom cabinets in laminated finishing was installed. However, this zone is not all about function though. To reiterate the home's trendy vibe, cabinets feature woodgrained laminates to match the furniture found in the communal zones, while an eye-catching tiled backsplash elevate the style quotient of the space. What's more, a chalkboard wall works as a way to spice up the kitchen with personal drawings and messages all without taking up any floor space.
Another strategy to open up the apartment with its originally tiny bedrooms is to combine two rooms to form a spacious master bedroom designed specifically to encourage rest and relaxation.
Eddie explains, "The homeowners wanted a bedroom that was clean and restful, but at the same time fit in with the rest of the home's aesthetics as this is where they would spend most of their time at home."
As such, the boudoir has been segregated into two zones – one for sleeping in and one for dressing up in – to keep things neat and organised.
The sleeping zone indeed exudes a peaceful ambience with its neutral palette of wood and grey tones. Here, the space is simply furnished with a bed and a pair of dark wood nightstands, which sit in contrast to a striking feature wall clad in laminates cut and designed to look like concrete slabs with groove lines.
Behind this feature wall is the dressing area with its island wardrobe and an organising system that provide Marcus and Gayle ample space to store their clothes and accessories.
With its simple, versatile design and tasteful selection of fittings and furnishings, this home is a prime example that one can live comfortably in a petite space – all it takes is careful consideration to style and functionality.

This is adapted from an article originally published in the March 2016 issue of SquareRooms Photo credits: Fuse Concept
Credits to: https://squarerooms.com.sg